Ready for our Artist in Residence with David Bokser @dbokser this Wednesday night? He is talking Love in the Time of Advertising?.
David is a great TD, artist is also part of the http://www.cgmonks.com/ and when he has time, Mentors for us here at Rigging Dojo.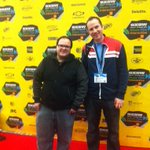 Also joining him is Matt Berenty, co-creator of the film.
Matt  is creative director at WOLF & CROW where he just finished  Love in the Time of Advertising which he co-created.
@MattBerenty on twitter and his personal website  http://mattberenty.com/

http://loveinthetimeofadvertising.com/ #rigtip #animtip
Watch he film here (It got a Vimeo Staff Pick!)

Love in the Time of Advertising from Love in the Time of Advertising on Vimeo.
You can check out some of the tips and making of videos here to get some questions going.
About the Rigging Dojo Artist in Residence subscription
Here's some detail for those folks new to the program or for those who have questions on how it works…and what you can expect from the service.
Once a month we host live web meeting with our artist for at least an hour.
Our Artist in Residence hosts the meeting and talks about his or her workflow, problems they've encountered, challenges, tools, and answers your questions.
We record this meeting and post it to a private forum only for subscribers a day or two after the AIR meeting.
A week or so before the meeting we send out an email, tweet and Facebook post, once the date is confirmed.
You will get another communication a day before and lastly one email right before the meeting starts with the login information.
We hold them, usually at 9PM EST on the third Thursday of the month.The date and time will fluctuate as the Artist in Residence and the folks here at Rigging Dojo are working professionals with deadlines and some of us have families too.
In the subscriber forum artists can chit-chat and discuss, well, anything you can think of. We love to see works in progress and questions related to anything Rigging or Technical Art and Animation.
Subscribe and For about the price of a good cup of coffee (we like good coffee) $3.49, you get access to the latest information and top industry artists.
After you complete payment click "return to Rigging Dojo" and then "register".
Please use FirstnameLastname format.